Soppressa with Lard - € 17,50
<p><span>Grandpa Toni, old homemade salami processor, left us the love in the traditional Venetian production.&nbsp;</span></p> <p><strong>The right proportion between fat and lean, the careful selection of cuts as well as the expert care in dosing salt and pepper are the foundamental elements of this both simple and excellent recipe. </strong></p> <p style="text-align: justify;">The uniqueness of this product is given by the addition of a lard heart in its interior.<br />Better serving with hot foods favoring the lard being well melted.</p>
< Torna indietro
Articolo: 26-19
Soppressa with Lard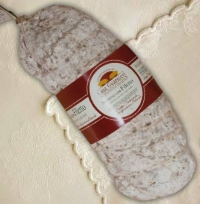 AGGIUNGI AL CARRELLO

SHIPPING: We usually take a few days off for shipment, days that are needed to get you home fresh. In fact, the products of our artisans do not contain any preservatives.
Descrizione
Grandpa Toni, old homemade salami processor, left us the love in the traditional Venetian production.
The right proportion between fat and lean, the careful selection of cuts as well as the expert care in dosing salt and pepper are the foundamental elements of this both simple and excellent recipe.
The uniqueness of this product is given by the addition of a lard heart in its interior.
Better serving with hot foods favoring the lard being well melted.