Pork Shoulder with Herbs Gold Selection - € 15,50
<p style="text-align: justify;">Casa Guarnieri selects the leanest top-quality <strong>PDO dedicated</strong> females in order to avoid eccessively fat products and, furthermore, not to alterate the taste during the cooking process, the minimum quantity of water is added. </p> <p style="text-align: justify;">The&nbsp;<strong>roasting process </strong>with exclusive herbs&nbsp;let the meat healthy and compact&nbsp;<strong>without adding any polyphosphates</strong>, dairy products and gluten sources.</p>
< Torna indietro
Articolo: 26-24
Pork Shoulder with Herbs Gold Selection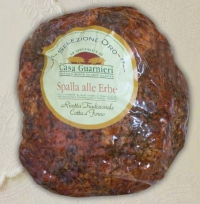 AGGIUNGI AL CARRELLO

SHIPPING: We usually take a few days off for shipment, days that are needed to get you home fresh. In fact, the products of our artisans do not contain any preservatives.
Descrizione
Casa Guarnieri selects the leanest top-quality PDO dedicated females in order to avoid eccessively fat products and, furthermore, not to alterate the taste during the cooking process, the minimum quantity of water is added.
The roasting process with exclusive herbs let the meat healthy and compact without adding any polyphosphates, dairy products and gluten sources.